REVIEWS OF O'NEILL PLAYS IN PERFORMANCE
4. ANNA CHRISTIE, directed by Cynthia J. Messier. Your Theatre, New Bedford, MA, September 19-29, 1984.
Given the current paucity of American O'Neill productions, one can seldom, even in the theatre-speckled city of his birth, attend two of his plays on successive evenings. So I jumped at the automotive chance, last month, of creating an O'Neill weekend: Hughie in Provinctown on Friday (reviewed above), and my very first "live" Anna Christie in New Bedford on Saturday. The performances' proximity did not provoke comparative insights such as Albert Kalson found when he saw two O'Neill plays on consecutive evenings in London last April [see the Spring 1984 issue, pp. 30-32]. Indeed, a new-comer to O'Neill might have questioned the claim that two plays so different could be the work of the same man. But even without the critical cross-pollination I'd hoped to accomplish, my O'Neill weekend was a most gratifying one.
Founded in 1946, Your Theatre has operated since 1979 in the building formerly occupied by the New Bedford Textile School, where the financial support of private citizens, grants, and local businesses has provided it with a technically up-to-date main theatre seating 88 and a smaller room for more intimate and experimental productions, and where it pursues its founders' goals: "to enhance the cultural life of the community [and] to develop and encourage dramatic art." That its current five-play season includes not only Anna Christie but Sartre's No Exit is evidence of its dedication to art rather than wealth; a quality that has won it a long list of regular sub-scribers who know that "their" theatre will make up in boldness and spunk for any deficiencies in cash. Hence this eulogistic digression about a company that, like many other community groups across the land, is keeping O'Neill theatrically alive when the majority of professional troupes accord him the status of a pariah. Hats off to his champions!
Your Theatre's poster calls Anna Christie "a character study of a young woman and her struggle to deserve the love she inspires." Since she has already been "transformed" by closeness to the sea before she inspires the immediate love of Mat Burke in the second act, I'm unsure about the description's accuracy. (Isn't it Mat who must come to deserve her love, after dumping her at the first announcement of indiscretion?) But Anna is indeed a "young woman"--just twenty, though her inland experiences have aged her prematurely and filled her with a cynicism that no harbor, not even Provincetown's, can quickly dispel. Like so many of O'Neill's later women, Anna is a challenging role for the best of actresses. Unfortunately, Linda Sue McCallester conveyed the youth but, despite appropriately tartish attire, never made Anna's story of her "past" believable--which made Mat's denunciation of her seem all the more callous. A slouch, a periodic curling or biting of lip (at moments, respectively, of cynicism and despair) and a penchant for hand rubbing do not turn an ingénue into a dispirited demi-mondaine. And a too-sweet Anna leaves a vacuum at the play's center--unless, as I began to suspect during the performance, the play, its title notwithstanding, isn't really Anna's. And the strong performances by YT's Chris and Mat reinforced that suspicion.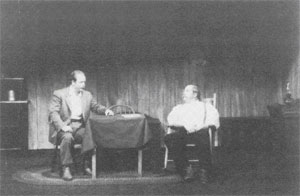 Gregory F. Leonard (Mat, at left), and Edward J. Maguire (Chris) in Your Theatre's Anna Christie
Edward J. Maguire, the theatre's artistic director, was just right as Chris. (I'd say he stole the show if it weren't rightfully Chris's to begin with!) Barrel-chested, and gifted with a powerful voice that managed well the tortuous dialectal challenges of the script, he captured both the outer elements of the old barge captain--the natural strength, the gauche awkwardness in society, the superstitious hatred of the Hole davil, sea"--and the balancing streak of sensitivity beneath the surface. In Act I, when he described to Anna the delights of life on a barge, he virtually danced. In Act III, when he heard Anna declare her love to Mat, the pain in his eyes needed no words to support it; and the tone in which, at Mat's needling, he defended his fifteen-year desertion of his daughter fully revealed the guilt beneath the rationalization. Perhaps the best such moment came in Act IV, when Chris enters and discovers Anna and Mat in an embrace. Maguire caught perfectly the changes of mood that O'Neill prescribes--from hatred, through resignation and relief, to a convivial grin. However forced the play's "happy ending" may be, the audience loved it, and Maguire's moment of transformation made it work. Even when, as required, he shook his fists at the heavens or the sea and intoned his perennial curse, one felt that the gesture was motivated by inner fibers as much as by the playwright and director.
Gregory F. Leonard had a harder time as Mat, since the character is such an ass--not only because this vital son-of-the-sea of Act II turns Catholic xenophobe for the improbable comic denouement, but also because of dat ole double standard he embodies in thematic service to O'Neill's feminist motif. (In Act II, he expects Anna to overlook his checkered past, and consider only her transformational influence on him, in assessing his candidacy as a mate. But in Act III, when Anna reveals a past as sordid as his own, and pleads for the same consideration from him, all she gets are a curse and a threat of violence.) But Leonard's delivery had the ring of Christy Mahon in every line--how clear, in performance, is the oft-noted influence of Synge!--and he brought great spirit to his periodic verbal and physical confrontations with Chris. Even Ms. McCallester came alive and found her most effective moment when, in Act III, the men sparring vehemently for possession of her, Anna must resist continuing victimization by shouting out her assertion of autonomy. It was the production's (as it is the play's) best moment because the ensemble playing was uniformly strong.
Cynthia Messier, YT's president, directed the production with a care for blocking and natural movement that only the minor performers defied; and she played a feisty Marthy Owen whose affection for Chris did not prevent her enjoying his discomfort in trying, diplomatically, to tell her something she'd already guessed--that Anna's arrival would necessitate her departure. (How one wishes that Marthy's role were longer. Even though her service to the play's exposition is over in the first scene, and she couldn't reemerge without being a stowaway, one misses her salty presence ever after.)
The simple sets, designed by Maguire and George Lemay--gray wooden walls; a bar at our left and a central partition in Act I; barrels, coils of rope, portholes, and a life preserver for the second-act deck scene; etc.--conveyed the play's three locales without swamping the human inhabitants, proving that, in terms of setting, less can be more. Atmosphere was enhanced by a recording of Debussy's "La Mer" before the curtains first parted, sea chanties during the two intermissions, and (I believe) some nautical sounds at the start of Act II. I'd have liked a bit more of the last, and at least a touch of the "dense fog" that O'Neill says "shrouds the barge on all sides." Slightly dimmer light isn't enough for that act's events; and if there had been fog, we might not have noticed that the bartender and postman of the first act were rescued from the sea in the second, and looking little the worse for their bout with the briny! Less, in that instance, was only less.
But such petty cavils don't dim my gratitude to Your Theatre for giving me the chance, at last, to see Anna Christie; for making me reconsider some of my earlier suppositions about it; and for sharing O'Neill with their seaside neighbors. Had the playwright been there, I know he would have joined in our long and loud applause.
--Frederick C. Wilkins