CHIPPING AT THE ICEMAN: THE TEXT AND THE 1946 THEATRE GUILD PRODUCTION
From that moment in October of 1939, when Eugene O'Neill completed his second draft of The Iceman Cometh, with Carlotta patiently typing from her husband's long-hand script, only his most intimate associates--including Kenneth Macgowan and George Jean Nathan--were allowed to read it. When O'Neill first offered to send a copy to Macgowan, he informed him that, due to its unusual length, it would. require "close to three hours concentration" (Bryer 254). After having read the script, Macgowan's critical response to its length foreshadowed the fierce controversy that would rage during rehearsals six years later. O'Neill challenged his friend's suggestions for the improvement of Iceman:
I'm sure I won't agree with you on the advisability of any drastic condensation of the first part.... I couldn't condense much without taking a lot of life from some of these people and reducing them to lay figures. ... it would be a loss to me to sacrifice anything of the complete life for the sake of stage and audience. (Bryer 256-257)
O'Neill believed he was left with no alternative but to stand by his play--length and all. In the midst of the current rehearsal setting, begun in May of 1946 at the Martin Beck Theatre in New York City, and the reality of a seriously over-long production, the Theatre Guild, under the supervision of Lawrence Langner, Theresa Helburn and Armina Marshall, challenged the playwright's stubborn hold on textual matters and won.
Six months before rehearsals had started, a press release from the Guild announced that Random House publishers "have had a script of The Iceman Cometh locked in their safe for many months. Not even employees were allowed to see it." The notoriety was deliberately tinged with mystery, of course, and would certainly benefit the forthcoming production. While the play was in rehearsal, a complete text, as O'Neill had written it, was published by Random House--a practice that was not unusual for this playwright since his plays often became best-sellers prior to their performance. As one opening-night critic remarked, there were "only two living dramatists whose work could be published simultaneously with its stage production: O'Neill and Shaw" (Phelan 44). (Prior to its premiere, Random House reported an advance sale of more than 23,000 copies of the play.) It was the kind of publicity that would appeal to Guild audiences, above all.
Following a tradition established in earlier Guild productions of certain O'Neill plays, The Iceman Cometh would be performed with a dinner intermission. (The Act One curtain ascended at 5:30 p.m. A one-hour-and-fifteen-minute dinner intermission followed. Act Two began at 8:00 p.m., followed by a ten-minute intermission. A second ten-minute intermission would also divide Acts Three and Four.) Unlike the earlier Guild productions of O'Neill, Iceman posed a different kind of problem: it resounded with repetitive dialogue and situations which O'Neill insisted throughout rehearsals were essential to the total effect of his play. At one rehearsal, Langner reportedly checked the script to discover that a particular sentiment was expressed eighteen times. When he pointed this out, O'Neill replied that "he intended it to be repeated eighteen times!" (Sheaffer 572) Previously Langner had indicated, quite explicitly, those lines he wanted O'Neill to cut, acknowledging that the playwright had already done "a great deal of cutting prior to going into rehearsal" (Langner 405). But on the front of Langner's rehearsal copy, in which those previously suggested cuts were indicated, O'Neill simply wrote: "To hell with your cuts" (Langner 406), and signed his initials. It was unavoidable that Langner should experience a conflict in loyalties out of his long association with O'Neill and in respect of director Eddie Dowling's request for some judicious trimming of the script.
After an extended rehearsal period marked by covert disagreements between Dowling and the playwright, the play opened on October 9, 1946, with the following major deletions. In Act One: Larry Slade's description of the inhabitants of Harry Hope's saloon which includes such specifics as when Cecil Lewis and Piet Wetjoen came to the United States and how they met; Joe Mott's previous occupation; how the saloon manages to keep open in spite of Harry's parasitic patrons (Iceman 35-36). Much of this information is repeated later in the play by the characters themselves. Willie Oban's dialogue, in which he discusses the origin of the bawdy song he sings, is cut (56); another cut, in which Willie pretends to be representing Pat McGloin in a suit for reinstatement on the police force (57), decreases the importance of Willie in this act. Also deleted is Hickey's description of his youth in Indiana (81).
In Act Two: The dialogue between Chuck Morello and Cora, in which they discuss their plans to marry and their resentment of Hickey, is cut (98-99), as is an argument between Larry and the two girls, Margie and Pearl (105-106). Don Parritt's description of his mother's attitude toward Larry and the Movement (124-125) and his reasons for betraying his mother (127-128) are cut, along with Hickey's reminiscence about his early experiences as a salesman (147).
In Act Three: The longest single cut of this act is Willie's conversation with Parritt, in which he offers Parritt legal assistance (179-182). Also cut is Hickey's explanation of his lack of surprise at his comrades' unwillingness to kill their pipe dreams (198). Finally, Hugo Kalmar's feelings about the proletariat (200-201) are cut. These, of course, were repetitive of lines spoken earlier. In the Guild production, however, the order of the final speeches was reversed to give Hugo, instead of Hickey, the final speech in which he expresses sentiments similar to those in the deleted dialogue (206-207).
In Act Four: The dialogue of Lewis, Wetjoen, Joe, Ed Mosher and McGloin, in which each describes what befell him after he left the saloon, is cut (252-254), as is the return of Margie and Pearl form Coney Island (255-257). In the published text, their return provided a certain completion to the circular movement of the play and allows all the attendants of Harry Hope's establishment to be gathered onstage before the final curtain. Jeanne Cagney, who portrayed Margie, has explained the situation:
At dress rehearsal the executives of the Theatre Guild prevailed on Mr. O'Neill to cut the scene of the return of the girls from "Coney." Langner, Helburn and Marshall felt that the show was running too long. Mr. O'Neill was very unhappy about it--so was I (naturally--it was my best scene and I felt an important one to the show to round it out). I went to Mr. O'Neill to say that "I was sorry"--and he said--(and I think this is interesting) "Yes, Jeannie, when you cut lines--they bleed to death." (unpublished letter)
The blatantly deleted scene reflected the occasional desperate choices which were made to control the unwieldy length of the production.
Some of the more minor modifications which occurred during rehearsals--perhaps not intended to affect the length of the play--also reflected a careful design. For example, numerous references to Rocky as "pimp" were deleted. These had less to do with censorship than mere overstatement of what was already apparent in Rocky's relationship with Pearl and Margie.
Guild censorship did influence Parritt's frequent use of the word "whore," which was either deleted entirely or replaced with "slut" or "tart." Similarly, "whorehouse" was replaced with "hooker shop." Only in one of Parritt's final statements--late in Act Four---was the original use of "bitch" replaced with "whore," and appropriately so, since it precipitated his climactic exit from the action on stage. Only one reviewer found such dialogue "unnecessarily profane." (Allen 47)
Many of Larry's exceedingly maudlin comments about death, sleep, and tomorrow--although in keeping with his philosophizing manner--were radically trimmed, especially in the unusually lengthy and static first act. Furthermore, all of his references to the Movement, along with Parritt's, were replaced with the word "cause." This imparted a certain anonymity to the specific political philosophy under attack. Rocky's scattered references to Joe as "nigger" were consistently deleted or, in one case, changed to "coon." The alteration no doubt reflected the wishes of Dowling and the Guild. Less provocative, however, was Hope's echoing exclamation, "bejees," which was either extended to "bejeeses" or deleted altogether. Some modifications--seemingly insignificant--reflected newer textual innuendoes. Early in Act One, for example, Joe awakens and says, "I was dreamin' Hickey come in de door" (18). The modified version--"I was dreamin' he come in de door"--evoked a certain mystery in the unnamed reference and suggested a symbolic dimension to Hickey's yet undefined role in the play.
Rocky's reference early in Act Three to Larry's preoccupation with death--"if yuh was so anxious to croak, why wouldn't yuh hop off your fire escape long ago?" (158)--was an all too powerful foreshadowing that Dowling quite smartly excised. Similar cutting greeted Hope's lengthy plea to the two police detectives, Moran and Lieb, late in Act Four, in which he admitted that Hickey "was nutty the minute he showed up here!" (244) Here Dowling deliberately heightened the effect of Hickey's story--and possible insanity--with an appropriate touch of ambiguity in what was left unspoken. Dowling was keenly sensitive to the playwright's excessive wordiness and tendency to give too much away.
Finally, specific modifications adjusted O'Neill's original to the physical attributes of the assembled cast: that Cora would be referred to as a "redhead" when it was decided, late in rehearsals, that Marcella Markham, the actress who portrayed her, would be allowed to display her own naturally red hair. (The "blonde" of the original text was therefore cut.) Rocky would also point Hickey out to the detectives as "de guy sittin' alone," rather than "de fat guy sittin' alone" (231). In his original concept of Hickey, O'Neill had imagined a physically rounder character than the actor (James Barton) chosen to play the part.
The following chart lists the characters in speaking order and includes the number of individual modifications (deletions, substitutions and additions) which were introduced to each of the four acts of O'Neill's original text shortly before and during the rehearsal of the play. An individual modification represents a single word, a sentence, a block of dialogue, or an entire scene: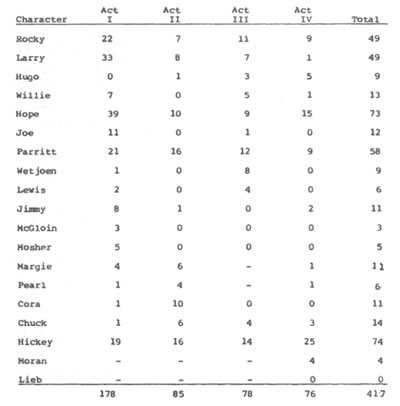 The chart indicates that the greatest number of modifications was introduced for Hickey--the longest role of the entire play. Early in rehearsals Barton briefly discussed his role and revealed that O'Neill had trimmed "only about forty words" (WT) from Hickey's long fourth-act monologue. It was true that Hickey's entire speech, which lasted some sixteen minutes in actual performance time, survived basically intact. The date of the press item would also suggest that the minor deletions had occurred in the first few days of rehearsals or perhaps even earlier. Barton made no reference to the other lines he spoke in the play, and in no other interview did he allude to possible changes in the original text. In spite of the many alterations which occurred, such discussions were either minimized or carefully avoided with the press. Barton, as one of the play's leading actors, handled the controversial matter with quiet caution.
Just days before the opening performance, however, a reporter for the New York Times wrote that "they had been having a little difficulty with the last act. He [O'Neill] thought he could do a little judicious pruning and straighten things out" (Schriftgreisser 1). The excessive length of the production could have caused the axe to fall on any one of several moments in Act Four, but it was entirely possible that the scene of Margie and Pearl's return was the target of the author's "judicious pruning."
Dowling understood that the uncut version of Iceman, in the edition published by Random House, was the text O'Neill wrote and wanted played. Although he knew that the imminent production modified the published text considerably, he persisted in announcing that The Iceman Cometh would be "played as O'Neill wrote it" (Morehouse). During the long rehearsal period, he was determined to present a positive picture to the press of all professional matters leading up to the opening performance, despite the fact that O'Neill had disagreed with so many of his directorial choices. (In an unpublished letter, dated September 2, 1969, Dowling recalled: "With Eugene O'Neill's OK, I made many cuts," then refused to comment further. Whether he was referring to his earliest association with the script and those changes which evolved before it reached the actors, or simply to those changes which were introduced during rehearsal, was a matter he chose not to clarify.)
Langner has described, somewhat diplomatically, his acceptance of the situation:
Before the play opened, I told O'Neill it would be exactly the way he wanted it, even though I felt it was overwritten. On the night after the play opened, I went to his home and told him I thought the play was a great success but that it would never be cut down to the right dimensions till after his death. (Langner 406)
In his own copy of the play, Langner had also recorded the running time of the four acts, as the play was originally produced. The first act timed at one hour and eleven minutes; the second at 45 minutes; the third at 45 minutes; the fourth at 44 1/2 minutes. The notation included the date--October 18, 1946--and closed with Langner's signature. (During rehearsals the playwright once pulled aside actor Tom Pedi--who originated the role of Rocky--and confided that an early draft of the play read at "ten hours." In his opening-night review, critic Kelcey Allen noted: "The first act is an hour and fifteen minutes, the fourth act, about an hour.") (Allen 47)
Even after the play had officially opened, its length continued to plague the Theatre Guild. Within two weeks, as reviews continued to appear, O'Neill's newest play quickly established itself as a controversial theatrical event. Nevertheless, before the end of October, the Guild sent the following release--dated October 25, 1946---to its subscribers:
Taking advantage of two weeks of performances, the playing time of Eugene O'Neill's The Iceman Cometh has been reduced fifteen minutes. As a result the Theatre Guild has increased the intermission time to one hour and a half, thus giving diners the additional fifteen minutes. Henceforth, the intermission will be from 6:45 to 8:15 p.m.
However, when it was discovered that some audience members were not returning after the dinner intermission, Dowling and Langner discussed the possibility of performing the play without a dinner break. In a letter to Langner, dated October 31, 1946, Dowling suggested "getting 'The Iceman' started at 7 p.m. and running right through. It will make a great difference, I bet. I never wanted the early hour, as you know. We can make the New York run a much longer one, by this simple change" (Unpublished letter). So another Guild press release indicated that, commencing Sunday, November 17th, The Iceman Cometh would begin at 7:30 p.m. and end at approximately 11:20 p.m. (The official Theatre Guild subscription period terminated on Saturday, November 16th. The play would also be performed from Tuesday through Sunday, with the elimination of the Monday performance.) This release, announcing the termination of the problematical dinner intermission, included a statement by the playwright himself:
I wish to inform the public that I personally guarantee them that the play remains exactly the same as on opening night. Not a single cut has been made in The Iceman.... Present conditions, which made it most difficult for patrons to take advantage of the dinner intermissions, together with the fact that the performances have speeded up fifteen minutes influenced the change to the new 7:30 curtain time.
Although O'Neill assured his public that it was seeing the same production which opened on October 9th, certain adjustments in dialogue and staging had been unsuccessfully attempted, and without his approval. Suspecting that the Guild might tamper with the text once the production had opened, O'Neill sent his wife Carlotta to
station herself unobtrusively backstage where she could hear everything and check the performance against the script. On learning that stage manager [sic] Karl Nielsen had told the two detectives to delay their entrance till just before the climax of Hickey's confession, O'Neill warned the Guild that he had the right to close the play unless his stage directions were strictly adhered to; and thereafter, though he had formerly been kindly disposed toward Nielsen, he never spoke to him again. (Sheaffer 590)
Shortly into its run, casting director Sherlee Lantz was approached by the Guild and asked to make certain cuts in the play. Having worked so closely with O'Neill in preparing the rehearsal scripts, she was thoroughly acquainted with the text. Shocked by their request, she refused to comply. "Not a line was cut, and the blocking remained the same," insists Markham. Pedi has reaffirmed that "nothing was deleted from the script when we cut out the dinner hour to a complete run of the play."
The Iceman Cometh was staged by the Guild for fifty thousand dollars. It played six nightly performances each week--Monday through Saturday, replaced by a Tuesday through Sunday schedule as of November 17, 1946. (On March 5, 1947, an item in Variety reported that the Guild originally "proposed to play [it] eight times a week but that was before O'Neill refused to condense the script.") Its New York run terminated on March 15, 1947, after playing 136 performances.
Except for Carlotta's unscheduled backstage visits from time to time, O'Neil: himself never returned to the Martin Beck Theatre. His final view of the Martin Beck stage occurred on the afternoon of the opening, when he stood in the backstage wing as the curtain ascended on the Robert Edmond Jones set to a healthy burst of applause. He turned and quietly exited through the backstage door. Langner has offered some final comment on the enterprise:
As it was, The Iceman Cometh had a considerable run, and one which I think would have been much longer had not James Barton developed a case of laryngitis, so that it became increasingly difficult to hear him during the latter part of the play. As he had the so-called "run-of-the-play" contract, which required him to continue in the play either in New York or on the road, we finally arranged to have him leave after the New York run, when the part was excellently played by E. G. Marshall. [Marshall originated the role of Willie Oban and covered for Barton during the New York run.] As we had to continue to pay Mr. Barton's salary under our contract with him, this placed a heavy financial burden on the undertaking. However, while this experience was unfortunate, it was nevertheless not such as to affect the magnificent quality of the play and the high place it occupies in the catalog of O'Neill's work. (Langner 406-407)
O'Neill's professional association with the Guild still continued. On February 20, 1947, while Iceman continued its engagement in New York City, A Moon for the Misbegotten opened in Columbus, Ohio, where it would begin a road tour before reaching New York City. The play closed in St. Louis, however, in the midst of a strong censorship controversy. O'Neill's disintegrating health finally prevented his becoming involved with this or any other play. (A Touch of the Poet was also on
Langner's list for future production.)
"I don't believe I could live through a production of a new play right now," (Langner 409) he told Langner. But Langner insisted he would do everything to facilitate any up-coming production, reminding the ailing playwright of the measures taken to produce Iceman. Once again, Langner assured him, he would be given last word on the production. "No, that's my last word on the subject," (Langner 409) O'Neill responded and, as if he had some grasp on the fatal consequence of his present condition, unofficially closed his professional association with the Guild.
--Gary Vena
WORKS CITED
Allen
Allen, Kelcey. "The Iceman Cometh." Women's Wear Daily, October

10, 1946.

Bryer
Bryer, Jackson, ed. "The Theatre We Worked For": The Letters ofEugene O'Neill to Kenneth Macgowan. New Haven: Yale Univ. Press, 1982.

Cagney
Cagney, Jeanne. Unpublished letter, April 2, 1969. Courtesy of Vincent Spinelli.

Dowling
Dowling, Eddie. Unpublished letter, October 31, 1946; courtesy of Yale University. Unpublished letter, September 2, 1969; courtesy of Spinelli.

Langner
Langner, Lawrence. The Magic Curtain. New York: Dutton, 1951.

Lantz
Lantz, Sherlee (Weingarten). Personal Interview, October 8, 1982.

Markham
Markham, Marcella. Personal Interview, August 23, 1983.

Morehouse
Morehouse, Ward. "Interview with Eddie Dowling." Sun, October 7,

1946.

O'Neill
O'Neill, Eugene. The Iceman Cometh. New York: Random House, 1946. Subsequent references appear parenthetically in the text.

Pedi
Pedi, Tom. Telephone Interview, December 28, 1982; also, an unpublished letter, May 27, 1983.

Phelan
Phelan, Kappo. "The Iceman Cometh." Commonweal, October 25, 1946.

Press Release
Theatre Guild Press Releases: February 27, 1946; October 25, 1946; November 8, 1946. Courtesy of the New York Public Library at Lincoln Center.

Schriftgreisser
Schriftgreisser, Karl. "Interview with O'Neill." New York Times, October 6, 1946.

Sheaffer
Sheaffer, Louis. O'Neill: Son and Artist. Boston: Little, Brown,

1973.

WT
New York World Telegram, September 7, 1946.