NEW LONDON: A MENTAL TRAVELER'S NOTES
Downtown New London is by no means as depressed looking as Wilmington, Delaware. Nor is it as physically overwhelming as Baltimore. But, still, it is mostly red brick and low to the ground, which brings to mind these two other aged Eastern coastal cities.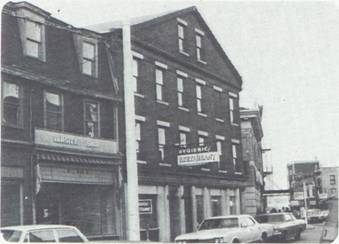 Figure 1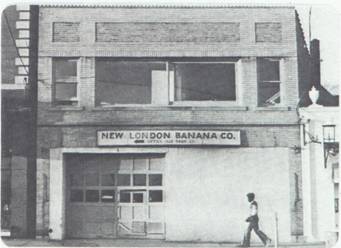 Figure 2
And, too, New London's squat red brick 19th century architecture is being rediscovered and freshened up in all manner of pedestrian malls and recycled buildings, which again brings to mind Wilmington and Baltimore.
But, of course, what New London has that no other American city has is James O'Neill, Sr.'s summer home, Monte Cristo Cottage; the cottage that in no small way contributed to the creation of one of the most powerful plays in American literature, Long Day's Journey Into Night (Figure 3, below).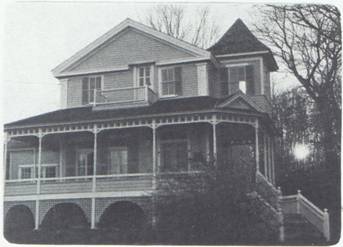 Figure 3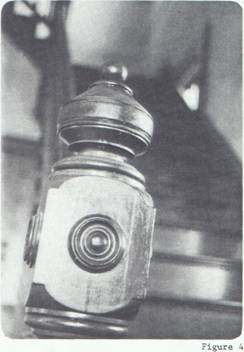 Figure 4
Monte Cristo Cottage, which has been revitalized under the auspices of the Eugene O'Neill Center (Waterbury, Connecticut) quite honestly lives up to its reputation as an architectural fiasco--at best, it's an inhabitable stage prop with unusually tall, but small, rooms downstairs; even smaller, cramped rooms upstairs (Figure 6), and an incredibly steep stair-case connecting the two divergent floors. (Figure 4).
Fittingly, the left of the Cottage's double front doors boasts not one but two keyholes (Figure 5). And in keeping with the O'Neillian penchant for symbols, a monstrous elm can be found hard by the Cottage, stage left (Figure 7). This behemoth tree all but dominates the landscape when one peeks out the upstairs side windows.

Figures 5 and 6
Lamentably, the bathroom on the second floor (Figure 8) had not been restored to its original splendor (if indeed a bathroom it was in the O'Neills' time) when the accompanying photographs were taken. Yet the tiny room with the low-to-the-floor window (typical of the rest of the upstairs windows), white porcelain bathtub and chrome towel rack remind one that once a family did live in Monte Cristo Cottage; and that they must have spent not a few ordinary days in the old house, touched by neither any great sorrow or joy, doing nothing more than just spending a summer.
Of New London itself, what's to say? The weigh-yourself-for-a-penny scale in the lob-by of the Mohican Hotel (the Hotel of Sincere Hospitality) and the Crocker House on State Street are certainly evocative enough of something; as are the Hygienic Restaurant and New London Banana Co. building on Bank Street (Figures 1 and 2). What exactly they evoke is best left up to each individual visitor to decide for him or herself.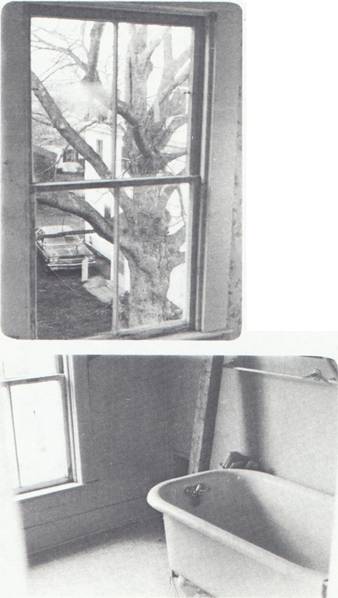 Figures 7 and 8
Perhaps this is best done over a schooner of beer at the Dutch Tavern on Green Street, with its stamped metal ceiling and no-nonsense decor. O'Neill, local legend has it, drank here--the only watering hole left in New London that can make that claim.
There's also Union Station (ca. 1885-87), designed by H. H. Richardson, to take in; as well as ,a storefront submarine museum, and a spectacular bridge where 1-95 crosses the mighty Thames (proudly pronounced with long a) River.
Whatever your opinion of O'Neill as an artist or of Long Day's Journey as a play, an even short visit to New London will alter your ideas about both in some small way, at the least. New London lays claim to one of the deepest harbors on the Atlantic coast. And the harbor has left its mark in more ways than one.
--Marshall Brooks