[Click on the media players throughout the text below to play the audio clips.]
On the night of February 12, 1883, at the Booth Theatre in New York City, James O'Neill first performed as Edmond Dantès in Charles Fechter's adaptation of Monte Cristo. In 1912, at the age of sixty-five, Mr. O'Neill called it quits after having portrayed the Dumas hero some 4000 times. In 1889, long before that 4000th performance, the theatre critic of the St. Louis Spectator wrote: "I hate to see a good, clean-cut, intelligent versatile actor spoiled. Therefore, I regret to see James O'Neill spending the best years of his life playing Monte Cristo . . . . He is making of what might be an all round star of fine capabilities and achievement a one-part actor. The playing of one part induces slovenliness and the playing of a highly romantic part, such as Edmond Dantès, invites affectation and unnaturalness. It is to be hoped that Mr. O'Neill will soon conclude that he has a fair enough share of wealth and will try something worthier of his powers."[1]
James O'Neill could not escape from the Château d'If, and his playwright son allowed him to deliver his own epitaph as James Tyrone in Long Day's Journey Into Night: "That God-damned play I bought for a song and made such a great success in . . . it ruined me with its promise of an easy fortune . . . and by the time I woke up to the fact I'd become a slave to the damned thing and did try other plays, it was too late. I'd lost the great talent I once had through years of easy repetition."[2]
On the night of December 22, 1964, at the Royale Theatre in New York City, Jason Robards first performed as Erie Smith in Eugene O'Neill's Hughie. While Robards did not portray O'Neill's "teller of tales" 4000 times, he did play the part for thirty-two years. In 1999, at the age of seventy-seven, he proclaimed, "Yes. Thirty-two years, Jack [Dodson] and I played it, off and on, everywhere. And the older we got, the better it was. Funny. We didn't even black up the last time we played it, black the hair, I mean. Lois [Robards' wife] and others saw it and said it was never better."[3]
Did Jason Robards spend "the best years of his life" playing Erie Smith? Did he "become a slave to the damned thing," repeating the transgression of James Tyrone? Was Hughie Robards' Monte Cristo?
At the age of thirty-four, Jason Robards was cast as Hickey in the off-Broadway revival of O'Neill's The Iceman Cometh. Overnight, his reputation was made. That same year, Robards went on to play Jamie Tyrone in Long Day's Journey Into Night. Not long after seeing that 1956 production, playwright Howard Lindsay watched Robards enter the Players club one night, and said, "I thought, when I saw you walk in, that I was seeing a young Edwin Booth." Lindsay's tongue-in-cheek comparison was a reference to James Tyrone in Long Day's Journey who, as a young and promising actor, played Othello to Booth's Iago. He, too, had been heralded as "a young Booth."[4] Speaking of James Tyrone's life as a touring actor, Robards once said, "He was a tumbleweed. That's what I am. He had no home—just jumping around so much. I find a lot of parallels between us."[5]
But Jason Robards was anything but a "one-part actor," as he starred in a multitude of stage and screen roles throughout his illustrious career. Barbara Gelb observed that in addition to playing O'Neill, Robards "salvaged Arthur Miller's flawed play, After the Fall; heightened the tragedy of Lillian Hellman's Toys in the Attic; created a sensitive portrait of F. Scott Fitzgerald in The Disenchanted; established a reputation for wry tragicomedy in A Thousand Clowns; and breathed new life into Clifford Odets' The Country Girl."[6]
But what of Erie Smith? Did Robards perfect the role as he played it, off and on, everywhere for thirty-two years, or did O'Neill's "small fry gambler" suffer from Robards' "years of easy repetition"?
While it is not possible to compare James O'Neill's Edmond Dantès of 1883 with his Edmond Dantès of 1912, we are fortunate to have four recordings of Jason Robards' Erie Smith. These recordings include the original New York production in 1964, a benefit production in Berkeley, California in 1975, a production at the Hyde Park Festival Theatre in 1981, and the Bay Area Radio Drama production from 1993. Jack Dodson played along side Robards in all four productions, and all four productions were directed by José Quintero.
* * * * *
In Hughie, Erie Smith—Robards' Edmond Dantès—is "imprisoned" in the lobby of a seedy hotel in midtown New York. Erie is a small-time gambler and horse-player, down on his luck. He mourns the loss of "Hughie," the recently departed night clerk of the hotel. Erie's grief is as much for himself as it is for Hughie. Hughie had been his sounding board, his flatterer, a looking glass that gave him the momentary reflection of the big shot he would like to have been.
Christ, it's lonely. I wish Hughie was here. By God, if he was, I'd tell him a tale that'd make his eyes pop! The bigger the story the harder he'd fall. He was that kind of sap. He thought gambling was romantic. I guess he saw me like a sort of dream guy, the sort of guy he'd like to be if he could take a chance. I guess he lived a sort of double life listening to me gabbin' about hittin' the high spots. Come to figger it, I'll bet he even cheated on his wife that way, using me and my dolls.

He chuckles.

No wonder he liked me, huh? And the bigger I made myself the more he lapped it up. I went easy on him at first. I didn't lie—not any more'n a guy naturally does when he gabs about the bets he wins and the dolls he's made. But I soon see he was cryin' for more, and when a sucker cries for more, you're a dope if you don't let him have it. Every tramp I made got to be a Follies' doll. Hughie liked 'em to be Follies' dolls. Or in the Scandals or Frolics. He wanted me to be the Sheik of Araby, or something that any blonde 'd go round-heeled about. Well, I give him plenty of that. And I give him plenty of gambling tales. I explained my campin' in this dump was because I don't want to waste jack on nothin' but gambling. It was like dope to me, I told him. I couldn't quit. He lapped that up. He liked to kid himself I'm mixed up in the racket. He thought gangsters was romantic. So I fed him some baloney about highjacking I'd done once. I told him I knew all the Big Shots. Well, so I do, most of 'em, to say hello, and sometimes they hello back. Who wouldn't know 'em that hangs around Broadway and the joints? I run errands for 'em sometimes, because there's dough in it, but I'm cagey about gettin' in where it ain't healthy. Hughie wanted to think me and Legs Diamond was old pals. So I give him that too. I give him anything he cried for.

Earnestly.

Don't get the wrong idea, Pal. What I fed Hughie wasn't all lies. The tales about gambling wasn't. They was stories of big games and killings that really happened since I've been hangin' round. Only I wasn't in on 'em like I made out—except one or two from way back when I had a run of big luck and was in the bucks for a while until I was took to the cleaners.

He stops to pay tribute of a sigh to memory of brave days that were and that never were—then meditatively.

Yeah, Hughie lapped up my stories like they was duck soup, or a beakful of heroin. I sure took him around with me in tales and showed him one hell of a time.

He chuckles—then seriously.

And, d'you know, it done me good, too, in a way. Sure, I'd get to seein' myself like he seen me. Some nights I'd come back here without a buck, feeling lower then a snake's belly, and first thing you know I'd be lousy with jack, bettin' a grand a race. Oh, I was wise I was kiddin' myself. I ain't a sap. But what the hell, Hughie loved it, and it didn't cost nobody nothin', and if every guy along Broadway who kids himself was to drop dead there wouldn't be nobody left. Ain't it the truth, Charlie?[7]
* * * * *
Jason Robards read Hughie in 1956, shortly after The Iceman Cometh was revived. He knew then that he wanted to play Erie Smith, but O'Neill's widow, Carlotta, was not ready for the play to be produced.[8]
Hughie's world premiere was at the Royal Dramatic Theatre in Stockholm, Sweden on September 18, 1958. The performance was attended by Sweden's King Gustaf Adolf and Queen Louise. Bengt Eklund played the part of Erie Smith, and he answered a series of curtain calls as the audience applauded loudly and drummed their feet on the floor to show approval in the Swedish fashion.[9]
Hughie had its informal Western Hemisphere premiere in Sāo Paulo, Brazil on October 13, 1959. Sergio Cardoso and Guilherme Correia read the play in Portuguese before an enthusiastic audience.[10]
Hughie was scheduled to have its American premiere in New York at the Circle in the Square Theatre on March 15, 1960, with Myron McCormick cast as Erie Smith. It was to be paired with O'Neill's The Emperor Jones.[11] However, Mrs. O'Neill felt the season was too far gone to usher in the brace of short plays by her late husband. At her request, the presentation was delayed.[12]
O'Neill's one-act play had its official English-language premiere at the Theater Royal in Bath, England on June 10, 1963. Burgess Meredith starred as Erie. "The audience responded warmly to his performance." The production moved to London later that same month.[13]
Hughie finally had its American premiere at the Royale Theatre in New York on December 22, 1964, and Jason Robards was indeed cast as Erie Smith. Robards confessed that the role haunted him. Aside from the burden of carrying the play, he said that memorizing the role was unusually difficult because Erie speaks in the Broadway argot of the 1920s. "I have a tendency to stumble over the slang and to correct the grammar," he said. "I've never been so worried about a role."[14]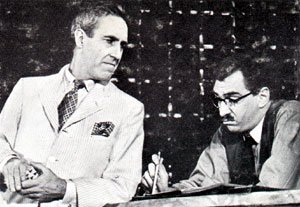 Royale Theatre, 1964
* * * * *
On June 28, 1975, Jason Robards and Jack Dodson traveled to California, where they "recreated the U.S. premiere" of Hughie "as originally staged on Broadway by José Quintero" at the Zellerbach Auditorium on the University of California, Berkeley campus. Robards and Dodson performed without remuneration, with the proceeds from the evening going to preserve Tao House, O'Neill's Danville home.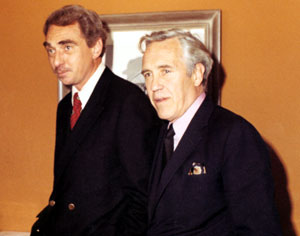 Zellerbach Auditorium, 1975
* * * * *
Robards, Dodson, and Quintero took Hughie to the Hyde Park Festival Theatre in upstate New York on June 17-21, 1981. Showtime taped the production for its cable system.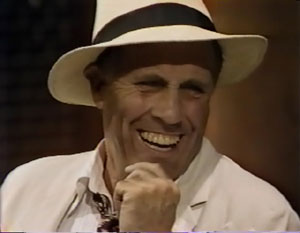 Hyde Park, 1981
* * * * *
The 1993 Bay Area Radio Drama (BARD) production of Hughie was part of a project to record for radio broadcast and tape distribution the text of O'Neill's plays. The plays were directed in Los Angeles by José Quintero. Travis Bogard was the literary consultant. The process of recording was somewhat different from the usual techniques for recording radio drama. The play was rehearsed for two weeks. Lines were learned and the action blocked. During the recording sessions, auxiliary microphones were placed at strategic points, in addition to the principal microphone, which was moved through the action. The result was a great presence and an unusual depth in the stereophonic configurations.[15] Other O'Neill works recorded in the series include the S.S. Glencairn plays, The Hairy Ape, The Emperor Jones, and Lazarus Laughed.
Robards and Dodson were cast in their familiar roles, and had few lines to learn. That same year they had opened the Trinity Repertory Theatre's season in Providence with Hughie "to help them out, get 'em some dough in there."[16]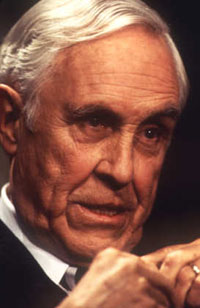 Bay Area Radio Drama, 1993
* * * * *
Hughie was not well received by the critics as it premiered in New York in 1964. Howard Taubman wrote in his New York Times review that Hughie was "not only a short play . . . but a small one. One would guess that the author, even if he liked what he had done, had grave doubts that it added anything to what he said with more penetration and richness of texture in The Iceman Cometh." The critic believed the play was "too spare to sustain a sense of voyage and discovery" and that it was "more like a mood piece and a character sketch than a drama." Taubman did not blame the production's shortcomings on Robards. He felt the actor did all that could "be expected of him to ring the few changes available to Erie" and that his "pride and triumph at the end when the distant night clerk melts [were] affectingly conveyed."[17]
Did Robards do all that could be expected of him in his initial portrayal of Erie, or was his "all" part of the problem? What happened to Erie Smith as Robards played the role, off and on, everywhere for thirty-two years?
Robards answers this for us in a 1983 New York Times interview, where he states, "It takes years of acting, of hamming it up a little, to even begin to do less. You are afraid that you'll back off too far. But what are you adding? To be true to a play you can't add something that takes away from the author's intent. Any actor worth his salt is looking for truth, the core of truth of the particular situation he is portraying, of that play. The playwright, the actors and the audience, that's what we're all there seeking."[18]
In the 1964 production, Robards can indeed be heard "hamming it up." He plays the part with much bravado, touching on buffoonery. He speaks his lines rapidly, sometimes making them difficult to comprehend. He continually shouts at the night clerk and the audience. Robards "backs off" and "begins to do less" as he performs Erie over time. He speaks more slowly, more softly, more deliberately, and with less bravado. This is exemplified by the following short segment from the longer monologue above.
Royale Theatre, 1964
Zellerbach Auditorium, 1975
Hyde Park, 1981
Bay Area Radio Drama, 1993
This change is also apparent in the way Robards treats O'Neill's stage directions. The initial "He chuckles" in the monologue above is handled very differently from production to production.
Royale Theatre, 1964
Zellerbach Auditorium, 1975
Hyde Park, 1981
Bay Area Radio Drama, 1993
Later in the monologue, O'Neill inserts, "He stops to pay tribute of a sigh to memory of brave days that were and that never were—then meditatively." Again, the tenor of Robards' response varies.
Royale Theatre, 1964
Zellerbach Auditorium, 1975
Hyde Park, 1981
Bay Area Radio Drama, 1993
Robards explains his eventual respect for O'Neill's stage directions in an interview for the 2006 O'Neill documentary directed by Ric Burns. "I seemed to feel that O'Neill always showed me the way to do it. Whereas most people would say he wrote too many stage directions . . . I found that those were the things that really helped me. I made a terrible mistake once when somebody said erase all the stage directions . . . . Well, the minute we did that, we were completely lost. So we had to go back and erase our scratch-outs, and we put them all back in."[19]
Perhaps Robards' 1964 rendition of Erie Smith can be accounted for by a 1967 New York Times interview, in which Robards proclaimed, "I love the theater. It's alive, immediate. It keeps you going, keeps your energy up. It's even a helluva good physical workout. Listen," he sighed," I hasten to tell you—none of this is life or death. You've gotta have a little fun with the work, or nothing has meaning. That's what I like. I just like to have a little fun."[20]
Compare this with Robards' comments in a 1988 interview, when he asserted, "An actor doesn't change thought, theme or mood unless the character does, and the character only does it within the words of the play. If the actor knows the play well enough and works hard enough, the play takes off and you don't even know that you've been there."[21] Or compare it with director Ellis Rabb's comments when he worked with Roards for the first time in the 1983 revival of You Can't Take It With You. "He [Robards] can let the audience know exactly what he is thinking and feeling so effortlessly. His eyes alone can tell you things that other actors do not have the power to tell. His voice is distinctive and an extraordinary instrument with enormous range. He can place it precisely where he wishes in order to express the most subtle of emotions without any display of technique whatever."[22]
While Robards "began to do less" after he had "a little fun" with Hughie in 1964, Erie Smith was still a work in progress. Robards sounds uncomfortable as he toils through the 1975 Zellerbach performance. There's misplaced emphasis throughout the monologue, as well as misplaced pacing. His lines stray significantly from O'Neill's lines. Instead of too much bravado, he sounds disinterested. Perhaps Robards was afraid he'd "back off too far"—and perhaps he did.
The Hyde Park Erie of 1981 was a significant improvement. His 1964 bravado is back, but now in an appropriate dose. John O'Connor reviewed the Hyde Park production for the New York Times, writing that "Erie demands a virtuosic performance and that is what the role gets from Mr. Robards. His bravado is defeated by his mirthless laugh. He whines, cajoles, implores with a mixture of fear and contempt. He is a once-disarming con man reduced to the last roll of the dice. Mr. Robards is almost chillingly on target."[23]
Robards presents us with a very different Erie Smith in his 1993 Bay Area Radio Drama performance, and it is possible that this is the Erie that the playwright had envisioned. In a letter to George Jean Nathan in 1942, O'Neill wrote, "Under separate cover, I am sending you a script of the one-act Hughie—the only one of the series titled 'By Way Of Obit' I have so far completed. These plays are written more to be read than staged, although they could be played."[24] It is possible that the BARD production was indeed "read," as it was not recorded in front of a live audience. Whether or not this was the case, Robards' "controlled reading" of the part appears more in line with what O'Neill had in mind than Robards' animated Erie of 1964. Would this more methodical Erie have worked on stage, in front of a live audience? William Gale may have answered this for us in his Providence Journal review of the Trinity Repertory Theatre's production of Hughie, done in the same year as the BARD production. "In performances that were marvels of restraint and emotional accuracy, Robards and Dodson turned Hughie into a feast for the mind and the senses."[25]
* * * * *
Any opinion of Robards' prowess, or lack thereof, at portraying Erie Smith at any given performance is certainly subjective. Robards would appear to have completely missed the mark in the 1964 Royale Theatre production. The 1975 Zellerbach production did indeed appear to suffer from "years of easy repetition." And while Robards' Erie Smith may have finally been perfected in both the 1981 Hyde Park and 1993 Bay Area Radio Drama productions, these were two very different portrayals of the character.
In a recent correspondence, the theatre critic of the St. Louis Post-Dispatch wrote, "It seems to me that you are confronting a problem that theater critics confront, and that we talk about a lot when we are together—what to do about plays you know in some other context (plays you have seen previously, plays you have read, plays whose author is familiar) . . . . After all, the circumstances that color our experience of a play, any play, go way beyond other productions we have seen. They may include a big dinner/no dinner, a lousy day at work/a fabulous day at work, a poorly ventilated/overheated/freezing house, the price you had to pay to park/the taxi driver, the jerk sitting behind you with a cough, the knockout across the aisle . . . a million things, large and petty, that intrude. The actor's job—to make himself the center of our attention in spite of all those things, because he has wooed us and persuaded us that we should surrender to his spell for a few hours—that's a very tough job. I figure I should give him a chance, insofar as I can, to accomplish it by at least not making him compete with actors who are not even in the room. Because, let's face it, the odds are against him anyhow."[26]
In a 1999 conversation with Yvonne Shafer, Robards said, "Years of experience, that's what it is. All it is is getting out there and making an ass of yourself for years and finally you learn something or you get out of the business."[27]
NOTES
[1] Louis Sheaffer, O'Neill: Son and Playwright (Boston: Little, Brown and Company, 1968), 42. Sheaffer cites the date of the review as 16 March 1889.
[2] Eugene O'Neill, Long Day's Journey Into Night (New Haven: Yale University Press, 1956), 149-150.
[3] Yvonne Shafer, Performing O'Neill: Conversations with Actors and Directors (New York: St. Martin's Press, 2000), 133.
[4] Barbara Gelb, "Jason Jamie Robards Tyrone," The New York Times, January 20, 1974.
[5] Mel Gussow, "Robards and a Long Career's Journey," The New York Times, December 22, 1975.
[6] Gelb, The New York Times, 1974.
[7] Eugene O'Neill, Hughie (New Haven: Yale University Press, 1959), 28-29.
[8] Barbara Gelb, "On the Player," The New York Times, 20 December 1964.
[9] "O'Neill's Hughie Acted in Sweden," The New York Times, September 19, 1958.
[10] "Hughie, by O'Neill, Read in Sāo Paulo," The New York Times, October 15, 1959.
[11] Arthur Gelb, "O'Neill's Hughie to Make U.S. Bow," The New York Times, January 25, 1960.
[12] Sam Zolotow, "Problems Beset Circle in Square," The New York Times, March 17, 1960.
[13] James Feron, "O'Neill's Hughie Staged in Britain," The New York Times, June 11, 1963.
[14] Gelb, The New York Times, 1964.
[15] José Quintero, "Directing a Radio Production of Eugene O'Neill's The Hairy Ape," Theatre Journal 43 (1991), 341-359.
[16] Shafer, 133.
[17] Howard Taubman, "The Theater: O'Neill's Hughie Opens," The New York Times, 23 December 1964.
[18] William E. Geist, "Robards - An Actor at the Peak of his Art," The New York Times, 22 May 1983.
[19] "Jason Robards on O'Neill," Eugene O'Neill – A Documentary Film, American Experience, PBS Online, 2006.
[20] Joanne Stang, "How Like an Honest Plumber," The New York Times, August 13, 1967.
[21] Mel Gussow, "Jason Robards, 78, Pre-eminent O'Neill Actor, Dies," The New York Times, December 27, 2000.
[22] Geist, The New York Times, 1983.
[23] John J. O'Connor, "TV View; High Quality on Premium Channels," The New York Times, 20 September 1981.
[24] TLS, Eugene O'Neill to George Jean Nathan, 19 June, 1942, George Jean Nathan Collection, Cornell University.
[25] William K. Gale, "Theater Review Hughie: A Play on Three Levels," Providence Journal, August 18, 1993.
[26] Judy Newmark, Personal Correspondence, 25 September, 2006. Newmark was responding to an email taking exception with her review of a local production of The Pillowman.
[27] Shafer, 127-128.