The New York Times, April 9, 1999
'The Iceman Cometh': Bottoms Up to Illusions
By BEN BRANTLEY
The silence is so taut that it hurts. It descends around 11 P.M. at the Brooks Atkinson Theater, the resounding soundlessness of a crowd of hundreds scarcely daring to breathe, much less cough or whisper or unwrap one of those notorious lozenges.
A question has been asked on the stage, the home of the new revival of "The Iceman Cometh," and Kevin Spacey, playing the man who must answer, breaks off in midresponse to pause. The pause keeps growing; it becomes an ocean. And Spacey, for those wide, penetrating seconds, seems like the most powerful man on earth.
When was the last time you heard that kind of hush in a theater? That this one occurs four hours into the performance of "Iceman," which officially opened last night, is a testament to the abiding potency of Eugene O'Neill's great, lumbering barroom metaphysics lesson of a play and to the hypnotic pull of this production, which arrives by way of the Almeida Theater in London and is directed by Howard Davies. In the land of the puny attention span, here is an American audience, still wide awake after prime time and hanging on to an actor's pause as though it were the edge of a cliff.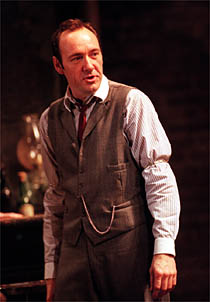 Sara Krulwich/The New York Times
Kevin Spacey as Hickey in the new revival of "The Iceman Cometh," which opened Thursday night.
---
The question that inspires this moment is one of many asked in the course of "Iceman," O'Neill's down-in-the-depths masterwork from 1946. By the time it is posed, the play's plot-driving mysteries, never that impenetrable to begin with, have already been uncovered, and its philosophical queries remain what they were in the first act.
But when Harry Hope (James Hazeldine), the owner of the grimy saloon where the work is set, eagerly asks Theodore Hickman ( Spacey), the charismatic salesman known as Hickey, to confirm that he, Hickey, has lost his mind, it is the highest-stakes question of all. What hangs in the balance is nothing less than the ability of Hope and his cronies to go on living, not happily, mind you, but with some degree of serenity, in the state of mind that O'Neill famously summed up as a "pipe dream."
The finest achievement of this slightly rough but always engrossing "Iceman" is its complete evocation of the appeal of its characters' pipe dreams, of illusions nourished and sustained by alcohol. They are what is threatened by the arrival of Hickey, a preacher of the gospel of self-knowledge, given shimmering, scalpel-edged life by Spacey, who turns everyone he touches from a fluttering ghost into a truly dead soul.
Harry's bar may be, as one of its inhabitants puts it, "the No Chance Saloon." But it is also a place of profound comfort and even beauty. A character in O'Neill's "More Stately Mansions" gives voice to its author's contention that existence is "without any meaning whatever -- that human life is a silly disappointment, a liar's promise." Life at Harry's is the life of anesthesia, an extreme form of the delusions that let everyone get from day to day. There is poetry in pipe dreams and the soothing rhythms of a lullaby.
From the production's opening images, in which the denizens of the bar stagger to the chairs in which they sleep, Davies and his cast convey those rhythms beautifully. There's a sleepy, stylized lilt to many of the actors' movements, as though they were walking underwater. Even the spasms of delirium tremens somehow register as balletic.
Bob Crowley's majestically squalid set is a counterpoint of enclosed and limitless spaces, of gritty realism and dreamscape. The room is confined by curving panels on either side of the stage, but the bare brick walls, on which float pieces of furniture and battered luggage, stretch skyward, with the aspiration of a Gothic cathedral.
Clad in Crowley's fraying costumes, and bathed in the Scotch-colored lighting by Mark Henderson, the ensemble brings to mind a tableau of glowing drunkards by Velázquez rendered in sepia, with the melting-faced Paul Giamatti, as the aptly named Jimmy Tomorrow, at its center. In contrast, the tableau that begins the fourth and final act is a harshly lighted vision of living corpses, battered, smeared and bruised.
All of the members of this familial band of losers, from a once-brilliant law student to a trio of prostitutes who insist they are merely tarts instead of whores, are saddled with their own great lies, built on fantasies of happy, successful pasts that can always be resurrected. The bar's self-styled Jeremiah in residence, Larry Slade (Tim Pigott-Smith), growls sardonic, purple declarations about this land of illusions. A onetime political anarchist, he is now free of ideals, he says, and waiting only for death. That, of course, is a lie, too.
The talk in "Iceman" is long and repetitive, its symbols ponderous. On the page, it can be leaden. It isn't meant only to be read, any more than sheet music is. And it is music indeed that emerges when the people of "Iceman" speak.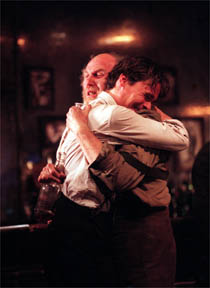 Sara Krulwich/The New York Times
Robert Sean Leonard as Don Parritt and Tim Pigott-Smith as Larry Slade in the new revival of "The Iceman Cometh."
---
Davies is a first-rate orchestrator, bringing out the operatic motifs in the often-told stories with which the characters entertain each other, contrasted by the abrupt staccato sounds, ranging from shattering glass to keys being flung onto a counter, that disrupt them. He also finds the sweetness, as well as the pathos, in the barflies' melodies.
Even Larry, a character usually played as a flinty old prophet, has been given a cozy, sentimental edge by Pigott-Smith. It is an approach that verges on cuteness, but it pays off when Spacey's Hickey arrives to celebrate Harry's birthday toward the end of the first act, radically altering the tempo of the evening.
Hickey is the man for whom the people at Harry's have been waiting, much as Beckett's tramps waited for Godot. And when Spacey hits the stage like a string of firecrackers going off, you understand why. Here, it seems, is indeed the one-man good-time caravan of the bar's local mythology.
That, at least, is the first impression, and it fades as soon as you look into Spacey's eyes. There is something both dead and restless behind them. When Hickey starts in on his spiel about his recent discovery of the inner peace that comes with the shedding of illusions, it has the slap of cold water. Small wonder that Harry's regulars complain that their booze suddenly has no kick.
As a movie actor in films like "The Usual Suspects" and "L.A. Confidential," Spacey has made a specialty of intricately layered characters with a secret at their center. He was, in short, born to play Hickey, and the intelligence he brings to the role, obviously grounded in a microscopic reading of the text, is breathtaking. You can almost see Hickey's trenchant mind cicking away as he assesses those around him, shifting gears to play on their respective weaknesses.
At the same time, Spacey conjures a man who is on the run from himself. Has any Hickey ever spoken quite this fast, like a carnival barker on speed? Spacey isn't rushing toward an early curtain. He is delivering a canny portrait of someone trying to outrace his thoughts with his words. When he loses, it's not a surprise. Spacey has prepared us too well. But that doesn't make the defeat any less harrowing.
To his credit, Spacey doesn't dominate the proceedings like an allegorical Titan, as Hickeys sometimes can. He and Davies understand that "Iceman" is not so much about Hickey per se as his role as a catalyst. The world of the bar, which is the world at large, is the true center of "Iceman," and this production never forgets that.
The cast is a mixture of actors from the London production and newcomers, and an ideal balance among them has not been completely realized. As Don Parritt, the son of an anarchist mother who carries his own corrosive secret, Robert Sean Leonard, a fine and sensitive young actor, is perhaps too much the leading man to present the requisite irritating mixture of defensiveness and eagerness to please. And the central, death-courting triangle made up of Hickey, Larry and Parritt lacks its essential grit.
Michael Emerson, late of "Gross Indecency," brings a deeply haunting, German Expressionist presence to the role of a washed-up Ivy Leaguer, though he could bring it down a notch or two. Tony Danza, as the whore-running bartender, is solid if a shade too brilliantine in his mannerisms. Clarke Peters, in the risky role of the show's single black character, and Jeff Weiss are terrific as very different spinners of threadbare yarns, as are Skip Sudduth and Katie Finneran as a pair of sweet-and-sour lovers.
Hazeldine's Harry Hope is perfection. More than anyone else, he becomes the crucial barometer of the changes wrought by Hickey's proselytizing, sliding slowly from posturing misanthropy to a bleakness just a degree away from death. There is a moment in the third act when Harry, finally forced to own up to his sustaining personal lie, goes absolutely ashen and his breathing becomes labored. You're tempted to stand up and cry "Enough!" and demand that Hickey be banished.
That your responses can still be so keen so late in the evening says much about this "Iceman," which manages to entertain even at its darkest and preachiest. O'Neill spoke of the play as representing "a big kind of comedy that doesn't stay funny very long." Yet when this "Iceman" turns somber, it never tastes like medicine. What is served at Harry Hope's saloon may indeed be rotgut, but this production has the rich, warming flavor of single-malt Scotch.