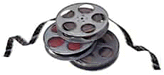 Anna Christie
Metro-Goldwyn-Mayer, 1930
German Language Version
Adapted: Frances Marion, Walter Hasenclever, Frank Reicher
Producer: Irving Thalberg Director: Jacques Feyder

Anna Christie - Greta Garbo
Mat Burke - Theo Shall
Chris - Hans Junkermann
Marthy Owen - Salka Viertel
Larry, the Bartender - Herman Bing
---

Videotape
---
"Whisky – aber nicht zu knapp!" Greta Garbo speaks that variation of her famous "Gimme a visky" opening line in MGM's German-language version of Anna Christie (1930), which was filmed immediately following the English-language version and used the same sets and crew. In the early years of sound, to take advantage of foreign markets, many Hollywood films were shot in alternate-language versions. Garbo had created a sensation with her first speaking part in the English-language Anna Christie (also 1930), and a German edition was a natural since the Eugene O'Neill story was internationally known and the actress was fluent in German.

As it developed, the German version as directed by Jacques Feyder was quite a different film from Clarence Brown's English-language treatment. German actors were imported to play the supporting roles, with Salka Steuermann (later Viertel) replacing Marie Dressler as Anna's salty dockside cohort, Marthy; Theo Shall filling Charles Bickford's role as virile seaman Matt; and veteran German star Hans Junkermann taking over from George F. Marion as Anna's sailor father.

The influence of the Belgian-born Feyder and the German co-players brought out different things in the star's performance, according to biographer Barry Paris: "Garbo's German Anna is more relaxed, less declamatory – and a heavier smoker." (Stills of Garbo smoking and drinking, "morally disallowed" in America, were seen at the time only by European audiences.) Salka Viertel, who became Garbo's close friend and for a time served as her manager, recalled that "She worked hard, with precision, and her German was almost without accent." Garbo herself often offered the opinion that the instant remake, shot in only 20 days, was superior to her first effort and, indeed, represented her best work on film.
Roger Fristoe, TCM